Company
In the Heart of Israel's Agricultural Area...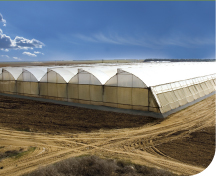 The nurseries are located in Ein Habsor - a big village in the western south of Israel. The temperate climate here, with its abundance of sunny days during the winter, is ideal for horticultural cultivation. There is no wonder this is the heart of Israel's agricultural area.
We grow our mother-plants in 11 hectares of greenhouses and employ up to 200 workers. Our staff includes professionals who are devoted to their mission of growing superior cuttings and committed to providing the best produce possible while maintaining attentive customer service.